Application fields
FDV supplies innovative inspection solutions to meet customer requirements.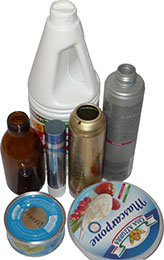 For the whole packaging industries (food-processing industry, pharmaceutical industry, cosmetic industry...), the packaging material used for fill and pack will get a huge impact for the quality of the final product.
The main manufacturing defects of this sector may be leaks, assembly defects, particles inclusion. That's why it's very important to inspect these packaging parts in order to avoid returns of batches which are difficult to handle as much in economic terms as in terms of corporate image.
Then we get a huge interest to work with the packaging supplier and the end customer together in order to improve quality and productivity.
This leads us to manage difficult aspect defects such as cracks, stripes or shift pattern.
For these kinds of inspection, FDV has developed a lot of solutions which answer to every specificities of the product (cardboard, wood, paper, plastics, metal, glass).