Competence
FDV supplies innovative inspection solutions to meet customer requirements.
Training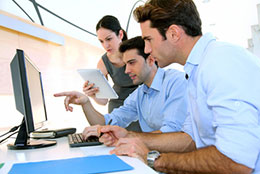 FDV is a recognized training center, and provides its courses on different levels:
Training course for operators. They are generally realized at the end of the vision project. Training is done on site and aims to help operators to feel at ease with the vision tool and to teach them how to acquire reflexes for interpreting what they observe.
Maintenance training course. They could be on site or in FDV training center. It gives technicians thorough knowledge about the installed application:
- how to carry out preventive maintenance and repair operations,
- how to analyze the equipment environment,
- how to make adjustments that may be necessary to adapt to new products.
Customer on line support
Combined with internet technology, distance analysis provides an extremely fast solution for customer support.
The possibility to store images, manage configurations, and to exchange through the internet is a technological advantage that we have already been using for several years.
Servicing on site
These service operations include three main actions:
Systems audit: whatever the vision system you have in place, we can provide you with analysis support, action to be carried out on your system.
After Sales Service for all systems installed by us, to replace and configure equipment.
Vision application upgrade.
Vision equipment and peripherals supply
We keep a complete stock of standard spare parts for our installations (vision systems, cameras and cables, lighting, optics).